This blog on flood risk in England has been adapted from the original here. It was written for our partners at Towergate Insurance Brokers by Mark Brannon Cert CII an industry leader with 17+ years of industry experience. He has worked across a wide range of insurance issues, always working to bring clients and insurers together in the best ways possible. That's why we're proud to call Mark a FloodFlash expert.
Exploring commercial property flood risk across England
Commercial flood insurance can be hard to find. That's because the UK is at risk from flooding from many sources. River, coastal and surface water flooding threatens commercial property across the UK. What's more, the problem is getting worse. The increasing frequency of extreme weather events, the constant spread of urban development, and the looming issue of climate change all threaten to make flooding worse, and floods happen more often. In this blog, we explore the parts of the UK that have struggled most historically, and those for whom flooding poses a serious threat for the future.
Since detailed records began in the 1940s, the UK has suffered from many natural catastrophes. Flooding is the most common of these, leading to injury, deaths, and billions in property damage. Here are some sobering statistics that bring that point to life:
(We've loads more stats on UK flood risk. Check out this blog for the 5 you must read.)
Now let's look at the parts of the England where flood risk is often even worse..
Areas at risk of coastal flooding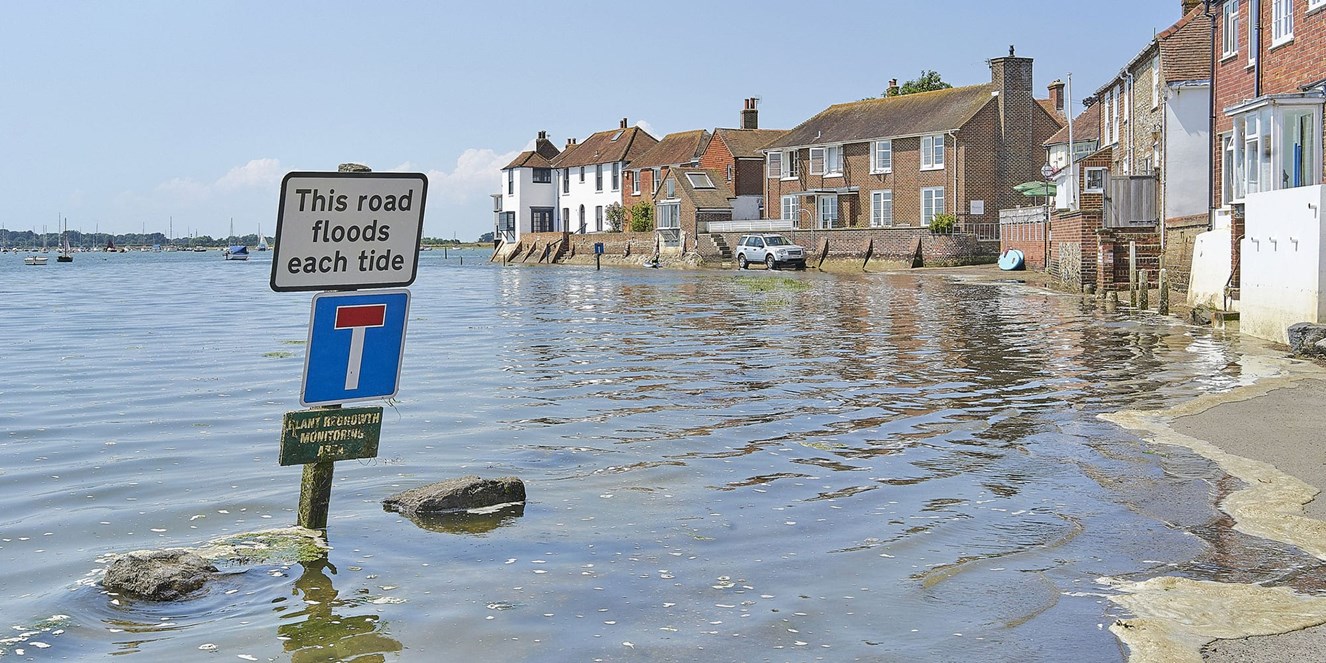 #1: Cornwall
Geography, severe coastal storms, and rainfall all contribute to Cornwall's long history of flooding. Even during the driest months of the year the southernmost county in the UK isn't safe from floods. When you consider the commercial flood insurance issue, the problems worsen. Approximately 12% of commercial buildings in Cornwall are located in a 200-year flood zone. Without motorways (one of the few counties to not have them) Cornwall's infrastructure is also uniquely threatened by the disruption caused by flooding.
Polperro harbour and Looe were destroyed in one of Cornwall's first recorded floods in 1817. People died in Boscastle and Polperro after flash flooding (another phrase for surface water flooding) in 1958 and 1976. Towards the end of 2000, many road closures and vehicle abandonments were caused after major roads were inundated. More recently, Truro has felt the consequences of flooding, two retailers were destroyed in 2009 after 30cm of flood water crashed through the properties. And in 2010, over 400 properties were destroyed, including the St Austell Market one of Cornwall's most notable landmarks.
#2: The East Coast – Hull and Great Yarmouth
The North Sea coast is as prone to flooding as any area facing the Atlantic – if not more so. The reason? Strong winds push across from the East causing sever storm surges along the coast. The result is that coastal areas like Hull and the Humber Estuary and Great Yarmouth are under threat. The Humber Estuary is particularly at risk from tidal swells that have lead to a dense history of flooding.
Records of flooding in Hull dates back as far back as 1571. Tidal flooding in 1953 and 1969 had a huge impact on the city centre. The floods of 2007 were the most expensive in British history. Hull was not spared. Flood waters devastated the area, causing damage to over 9,000 properties – residential and commercial. One of the worst outcomes of the flooding was that 95 of the 98 schools in the areas were damaged by the water. Great Yarmouth in Norfolk was similarly victim to the "Great Flood" in 1953. More recently the coastal town recorded its highest ever tide in 2013. Flood defences in the areas are in the process of being updated, which is great news for the more than 4,500 homes and businesses in the area.
#3: The South-East – Sussex and Kent
The South-East counties of England are at risk of both coastal, river and surface water flooding. Sometimes these composite risks combine to cause even worse damage. What's regarded as the most severe Sussex flood ever took place in 1994. After a period of torrential rain, the River Lavant burst its banks. 49 people were rescued by boat from the villages of Barnham and Yapton after roadways were blocked. Once again our review of the worst areas for flood brings to mind the Great Flood of 1953, which caused extensive disruption across Kent. That was followed by flooding in 2000 and 2001, which turned many Kent roads into rivers.
According to certain sources, up to 20% of commercial buildings in Sussex and Kent are in flood zones – indicating a moderate risk of flooding or worse. A 'managed realignment' project is working to help protect these areas. Since 2015, the bill to protect this part of the UK has reached £2.6 billion. However, certain parts of the counties have been sacrificed to form floodplains in order to save others.
Areas at risk of river flooding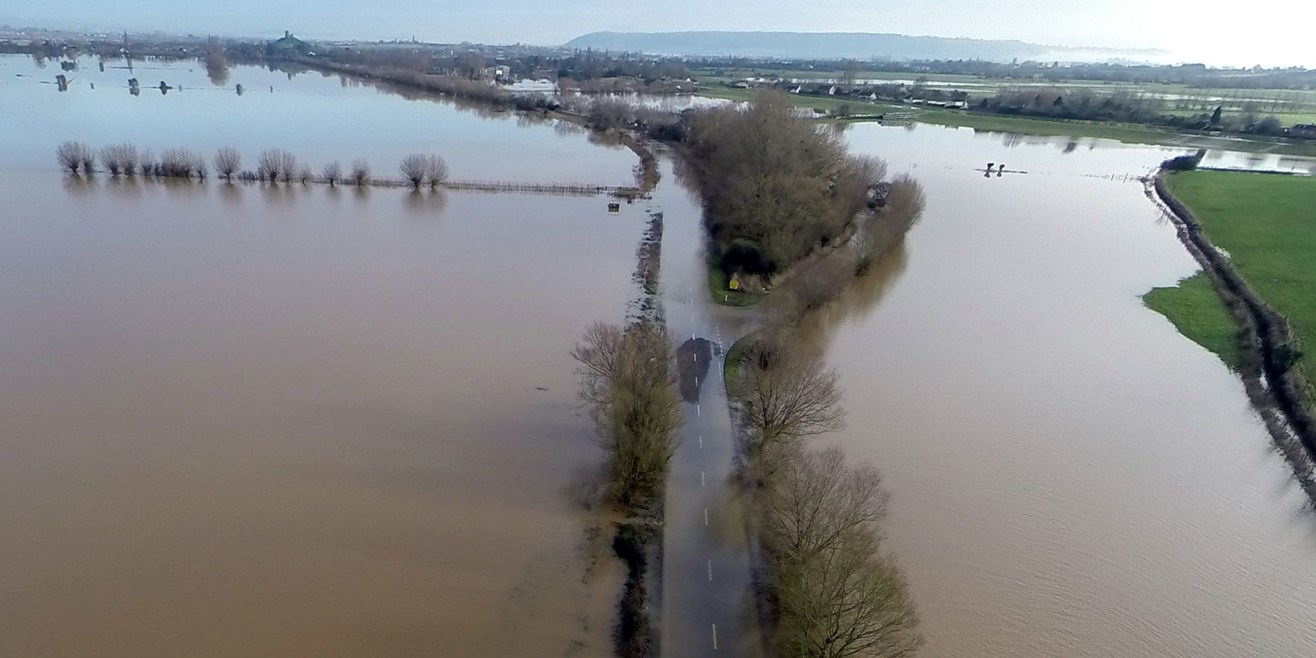 #1: Somerset
Much like the famously flood prone country The Netherlands, large swathes of Somerset sit below sea level. That makes the area particularly prone to flooding from all sources. When tides are high, water rises upriver, eventually bursting the rivers' banks and inundating the land around the rivers with water. Almost a quarter (22%) of Somerset's commercial buildings lie within a 200-year flood zone. That means that over the 20 year lifespan of a business, those properties have approximately 1 in 10 chance of flooding. Not odds to be taken lightly.
Somerset, famous for the Somerset Levels and Moors, is no stranger to flooding. In 1703 waves reached 1.2m over the sea walls and into the river. Flooding in 1799 and 1872 was also caused by similar breaches to the sea wall – showing that flood defences are often overtopped when extreme weather occurs. In 1919, 283 km2 was covered y water from the sea and nearby rivers. Seawater can cause significantly more issues that other sources of flood water – causing greater damage to property and rendering agricultural land useless.
#2: Essex
It might seem strange to include Essex in this England flood risk list. In terms of rainfall, Essex is one of the driest of counties in the UK. As anyone that has been caught in a summer rainstorm – that doesn't mean that the area has no flood risk. In fact, many parts of the county are at significant risk – Hockley, Canvey, Rayleigh, and Burnham-on-Crouch provide clear examples. Storm surges that impacted Hull and Great Yarmouth also have an affect on Essex, causing rivers to swell. The major waterways in the area (River Blackwater, River Colne, River Crouch and River Roach) all contribute to this phenomena.
During the Great Flood of 1953 Canvey Island and Jaywick bore the brunt of the local flooding. Homes, businesses and infrastructure were damaged, displacing thousands of people and causing £5 billion in damage (adjusted to today's money). We don't often associate UK flooding with loss of life nowadays, but sadly that wasn't always the case. 120 people died in Essex during the 1953 flooding. Today, 14% of all Essex's commercial buildings are in its 200-year flood zone – indicating that whilst we now have better safeguards to protect life, property is still very much at risk.
#3: Norfolk
Further to the section on Great Yarmouth – Norfolk is similarly impacted by the behaviour of the North Sea. That impact is felt along the riverways and broads that make the county famous. The rivers that surround the area (including the River Great Ouse, River Burn, River Glaven, and the River Yare) create over 3,000km of waterside. Norfolk is also a low-lying region – meaning it is as susceptible to periods of heavy rain as Somerset.
In 1912 the River Wensum rover by more than 5m – bringing Norwich to its knees. Bridges around the county were destroyed (over 50 were recorded as damaged or worse) and all road/rail connections were briefly cut off. 15,000 properties were damaged or destroyed causing a huge economic impact. Norfolk also bore the brunt of significant flooding in 1953, 1978, 2014 and 2020.
Areas at risk of surface water floods (flash floods)
#1: Cumbria
Cumbria is on the north west coast of the England, where flood risk is rife. Exposed warm air coming from the mid-Atlantic it is characteristic for the air to hold more moisture. The mountainous relief in the region essentially squeezes these water-laden clouds to produce the huge volumes of rainfall that the region experiences. In stark contrast to Essex, Cumbria and the Lake District is consistently one of the wettest areas – with that comes some of the highest flood risk in England.
Typical Cumbrian rain drains quite quickly through the county's steep valleys and well established water courses. When these drainage routes are put under pressure, the results can be devastating. 2009 and 2015 both lead to some of the worst floods the UK has seen in 550 years. Storm Desmond, which caused the 2015 flood, filled the river basin with so much water that the floodplains could not drain fast enough. More than 50,000 properties were damaged or destroyed and one person lost their life. For a region with such stark flood history in recent times, you might expect a larger proportion of commercial properties with a flood risk. Whilst it's true that 18% of Cumbria's commercial buildings lie within a flood zone, many of these were essential businesses and service providers and the impact of flooding when it does occur is far greater.
Editors note: Cumbria flooded once again during Storm Ciara in 2019. You can see how FloodFlash helped clients recover faster than ever in our retrospective blog about the claims.
#2: Lincolnshire
Unfortunate for the property owners in the area, 6 areas in Lincolnshire were recently names as some of the UK's locations most likely to flood. Lincoln, Gainsborough, Woodhall Spa, Boston, Holbeach and Skegness all made the list that is best avoided. As with the Somerset and Norfolk, much of the area is flat, with wide swathes lying up to 5m below sea level. This strange relief has lead to the situation where rivers like the River Glen and The Welland are higher than a lot of this land. Much like Cumbria, Lincolnshire is subject to high amounts of rainfall. This quickly fills up low-lying areas and rivers which overflow onto low-lying floodplains.
Windmills provided unlikely protection from flooding. Over 50 windmills in the Deepings region helped manage water in the region by 1763. Unfortunately, they did not stop flooding in 1920 which caused 23 deaths. Flooding occurred again in the region in 1947 and 1953. In the 1953 flood 43 people lost their lives and an estimated 200,000 acres of farmland was destroyed. In recent years, Lincolnshire has flooded multiple times, most notably in 2007.
#3: Yorkshire
With Hull and The Humber to the South-East and Cumbria to the North-West, Yorkshire is situated in an inopportune place where flooding is concerned. Add to that the many rivers, waterways, and low-lying moors and it might be fair to say that rather than "God's own county", Yorkshire is more likely to be "flood's own county". The river basin spans across the Vale of York and the famous Dales. Flooding is most common when heavy rain occurs upstream whilst the Ouse/Humber Estuary is also under stress from coastal factors. When the floodplains are overwhelmed the consequences are terrible. This might be due to the number of commercial properties at risk of flooding. East Riding is home to 37% of commercial buildings located within a 200-year flood zone, one of the highest percentage rates in the UK.
The Yorkshire Dales experienced major flooding in 1870, 1890, 1899 and 1986. The flood of 1890 was potentially the most severe, sweeping a bridge over the Swale at Gunnerside. Records suggest the River Swale has experienced 145 flash floods between 1700 and 2013 – a massive amount. More recently, torrential rainfall in 2019 precipitated flooding that destroyed bridges roadways and major railway lines through landslides. Many communities are still recovering now. When the 2019 flooding reached Fishlake near Leeds a staggering 90% of homes in the region saw severe water damage or were completely destroyed.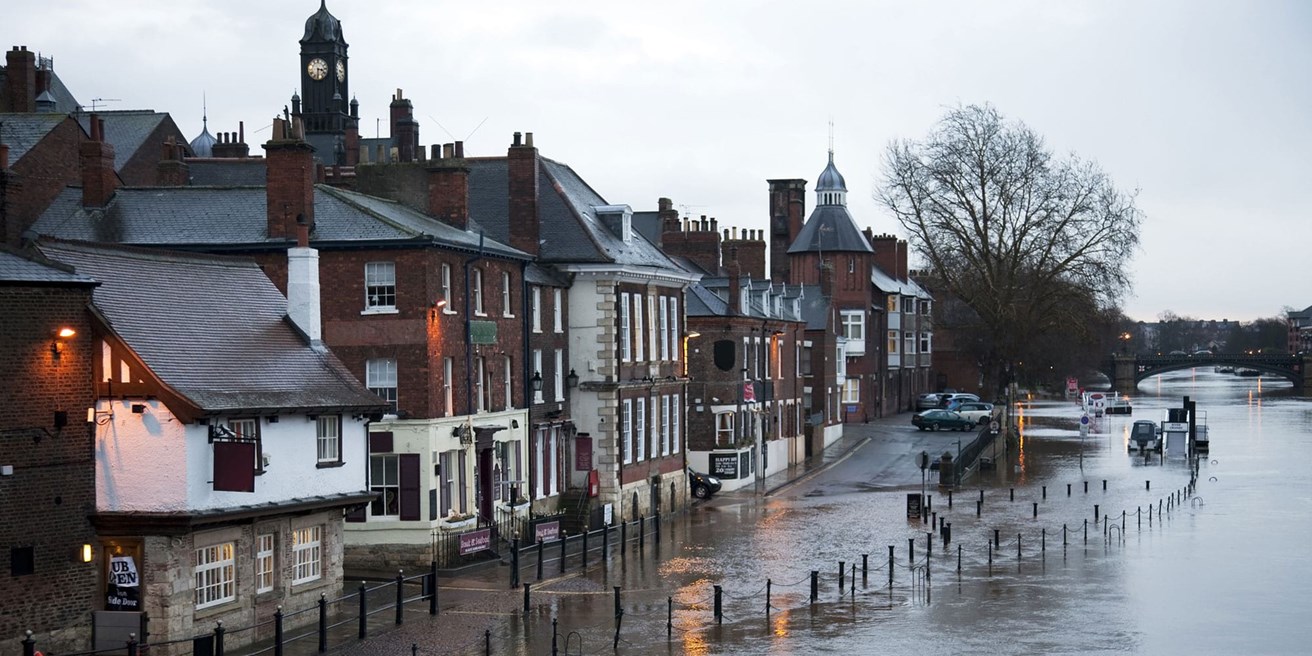 Flood risk in England recently
Flooding has become more frequent in recent years due to a number of factors. Increases in extreme weather, ongoing urbanisation, our keenness to divert water and climate change all contribute. The problem of damage caused by flooding has got worse too. As we continue to develop residential and commercial property on floodplains, the value of damage that flooding causes will only increase. The winter floods of 2019 caused sever flooding in multiple regions across the UK leading to massive insurance claims.
In early 2020, a second wave of flooding was caused, first by Storm Ciara, then by Storm Dennis a few weeks later. That double blow struck at a terrible time as people and businesses were hoping to guard their safety against ongoing COVID insecurity. Flooding was caused by the wettest February documented since records began (170cm in some places). Further flooding across Scotland in 2020 and Wales in 2020 and 2021 shows that flooding is an ever-present threat to livelihoods and lives.
Get a commercial flood insurance quote
Are you a business in England with a flood risk? Many businesses in the areas contained in this article struggle to get affordable, effective flood insurance. If you're looking for commercial flood insurance for your commercial or landlord property – take a look at our homepage to get started. If you'd like the support of an expert broker, our friends at Towergate are a great place to start to get an understanding of FloodFlash and all your cover options.
---
To find out more about more about our record-breaking parametric flood insurance visit our homepage.